For us at CapKelenn, commerce is more than ever alive in digital world and represents the essence of local social life where personal relationships are forged between economic actors and members of the community
Why CapKelenn? What does CapKelenn mean? In Breton language, "Cap" means "course" in nautical terms and "Kelenn" means "to teach". We set the course to teach the competences necessary for the success of each company and we learn to set the course, and each employee contributes to this course, from her/his own commitment.
We guide businesses to transform their employees into leaders capable of navigating any storm with teamwork, resources and tools that allow them to enjoy the journey.
Founding partners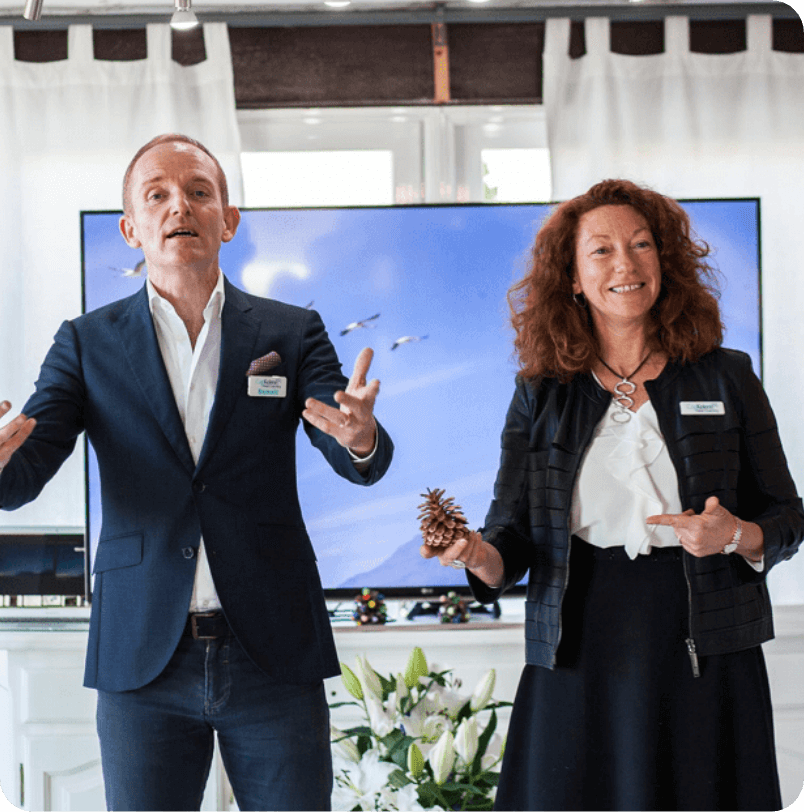 BENOIT MAHÉ , Executive MBA graduated from IE Business School, MCC Coach, Master in NLP and certified in MBTI. He is also the author of the books "Retail Coaching" and "The Connected Seller" and is an international speaker. Franco-Spanish with a global mindset, Benoit started in the exciting world of sales at the age of 16 selling flowers at the popular market in his hometown of Vannes (France) for summer income. At 24, he was managing 12 stores of the Kodak Express chain with 80 employees in Chile. At the age of 32, he managed the chain's 8,500 stores in Europe and at 38, after a year of personal and professional transformation, thanks to professional coaching and NLP, he launched CapKelenn. On a more personal level, Benoit runs the marathon in 2h57, sings in choirs and is the proud father of 3 children.
Habla: ES, FR (nativo), EN
Executive Coach MCC por ICF
Viviane Huido, Spanish by birth, French by nationality and British by education, has traveled and worked in multinationals in the retail sector in different countries for more than 20 years. A customer who loves bargain shops, she is very sensitive to the customer experience in stores and online. In the middle of her working life, Viviane trained as an executive coach and ICF team coach and in NLP. At CapKelenn, Viviane pilots the operational, pedagogical and administrative direction, in constant interaction with clients and trainers-coaches. His passion: travel and family reunions!
Speaks: ES, FR, EN (native)
Executive Coach PCC by ICF, Practioner in NLP, Team Coaching
Our Accredited Coaches

Álvaro Otal
See  more

José Luis Escribano
See more

Anne Zhang
Speaks: Chinese, Mandarin and English
See more

Gordana Panajotović
See more

Fumiko Watanabe
Speaks: Japanese and English
See more

Sarah Guo
Speaks: EN, Mandarin Chinese 
See more

Nadine Dassain
See more

Idoya Gutiérrez
See more

Leonor Larrarte
See more

Susana Anduiza Rubio
See more

Jean Chotard
See more

Olivier Carbonnel
See more

Carole Vecten
See more

Isabel Conceição
Speaks: PT, EN, ES, FR, DE
See more

Tony Hamadouche
See more

Stephan Schultze
See more

Frédéric Aunis
See more

Isaac Castro
See more

Ana Urbina
See more

Sarah Pesce
See more

Melhen Iglesias
See more

Andy Park
Speaks: korean and English
See more

Stéphane Hamon
See more

Our vision and mission

"We coach people in Sales& Retail to contribute to a better world". Better world for employees, better world for customers and better world for shareholders. We are supported by our long professional trajectory as executive and certified coaches. We put our heart in providing companies with the necessary training and coaching to achieve their goals. Crossing an ocean is not only achieved through a good physical preparation, but also a great mental preparation and self-confidence.
Experience and long professional career

Confident and trained teams

Goal achievement and job satisfaction
How can we help you?
If you want to live the CapKelenn experience
Contact us now and share your main challenges!